Devotion for Kumanokotai Shrine: An Interview with David Stanley Hewett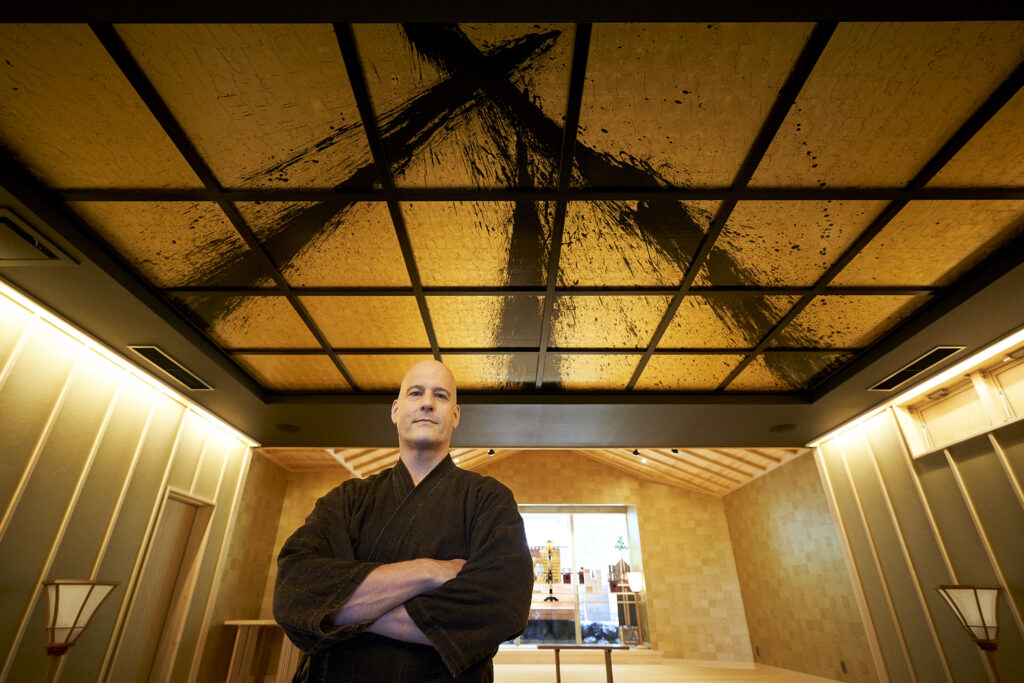 In the Nagano Prefecture of Japan is a sacred place called the Kumanokotai Shrine, a space where practitioners of Shinto pray and hold ceremonies.
As a long-time resident of nearby Karuizawa and a Shinto practitioner himself, David Stanley Hewett did not hesitate when asked to create a large-scale work for the Kumanokotai Shrine's ceiling.
The work, which was completed in Hewett's Karuizawa studio and installed in July of 2021, features 2,400 sheets of Kanazawa gold leaf on 24 wood panels. The installation was a natural fit for the artist after years of working on his Bushido paintings, a series inspired by a visit to a Shinto shrine in Osaka. Honored to be able to work on a project that holds personal meaning for him, Hewett was thrilled to be able to donate the work and contribute to the shrine's enduring legacy.
Read on for an exclusive interview with David Stanley Hewett on the Kumanokotai Shrine project.
What is the story behind the Kumanokotai Shrine project and how did the opportunity for this commission arise?
This came through my art agent actually. There was a person who was in charge of the renovation of this very, very old shrine in Nagano and they were constructing a new building for the shrine to do weddings and ceremonies in. They came to me through my agent saying they had seen my art in lots of different places, and would I be interested in collaborating with them in some way?
Once we got together and had a chat I said, 'if I'm going to do something, I'd like to do something really big.' I asked if they had thought about the ceiling. They hadn't thought about it, so I said, 'ok can we have a meeting with the architect and the planners and maybe have a chat?'
A couple months later they came back and said they'd love for me to paint the ceiling. They asked how much it would cost because gold is very expensive. This is a very important shrine for folks who live in this area, so I decided to donate the work to them.
A little over a month and a half ago we installed the painting and the official opening was in July.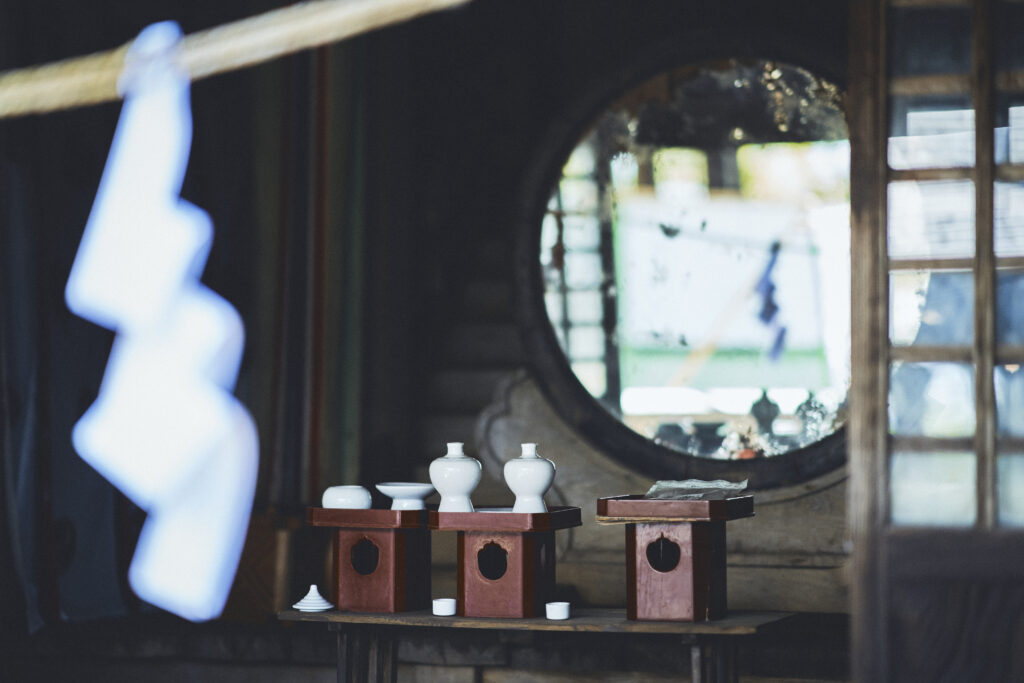 What is the meaning behind
Devotion
? And what does devotion mean to you?
I've been painting this Bushido series for 16 years, following a career in the Marine Corps and a lifelong obsession with Japanese karate. At Hokkaido University and at the University of Massachusetts, I studied ancient Japanese history and was really interested in Samurai, the Marshall legacy and common points with warriors around the world — integrity, strength, courage – which all line up well with Shinto. 
Devotion is about commitment. And this is a place where people will get married, and devotion should be a core principle in any long-term relationship.
Thinking about Shinto and the Bushido series, devotion is at the core of both of those things, so it was an easy choice to title it that.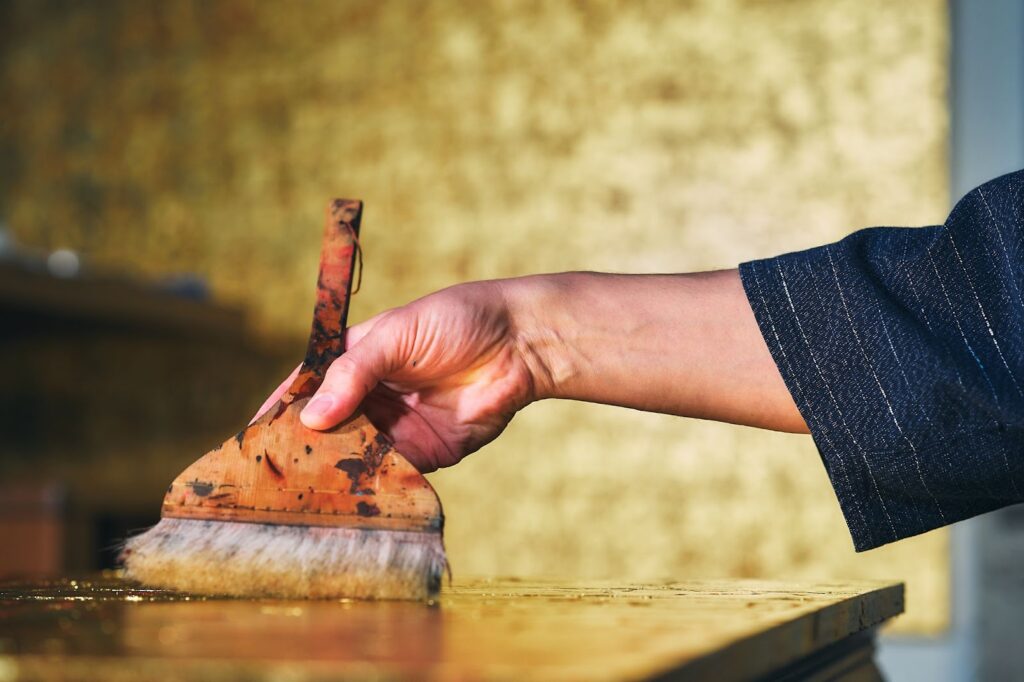 Are you a Shinto practitioner yourself?
We have a shrine in the office of our home. Shinto is a tricky thing to call a religion. It is a religion, I guess, but there's no big God sitting on a cloud saying this person's good, this person's bad. Shinto is a combination of a bunch of rural belief systems that existed before Japan was even Japan.
The core precept or the core belief is appreciation. That's it. At the base, it's just about appreciation, so if you can remember that, then you know all you need to know about Shinto.
Do you have certain rituals you go through when you're creating your works of art? 
I wouldn't call them rituals, but there is a meditative flavor to the process. Anything that's repetitive like that allows the mind to wander to other places because your hands kind of know what they're doing after 30 years of doing the same thing. 
With this project, there were 24 one-meter square wood panels all in pure gold and there were a little more than 100 sheets of gold per panel. So, 2,400 sheets of gold overall. I worked pretty straight on it over the course of 6 weeks just applying that gold. That is intense, you have to be focused. Gold is very thin…if you sneeze, it disappears. There's a bit of a meditative angle there, but I wouldn't say it's a ritual really.
How difficult was the installation of
Devotion
? 
I actually didn't do it, I just directed. There were about five guys installing it. They first asked if I wanted to lie on my back and paint on the ceiling. I said no, so we came up with the idea of doing it in panels and then applying the panels to the ceiling afterward. So, I had to paint in reverse. And then we ended up screwing the panels into the roof and then we applied black wood borders around each panel. Those are kind of a fixture in temples and shrines in Japan, Korea and sometimes China. It adds a lot of structure to the work.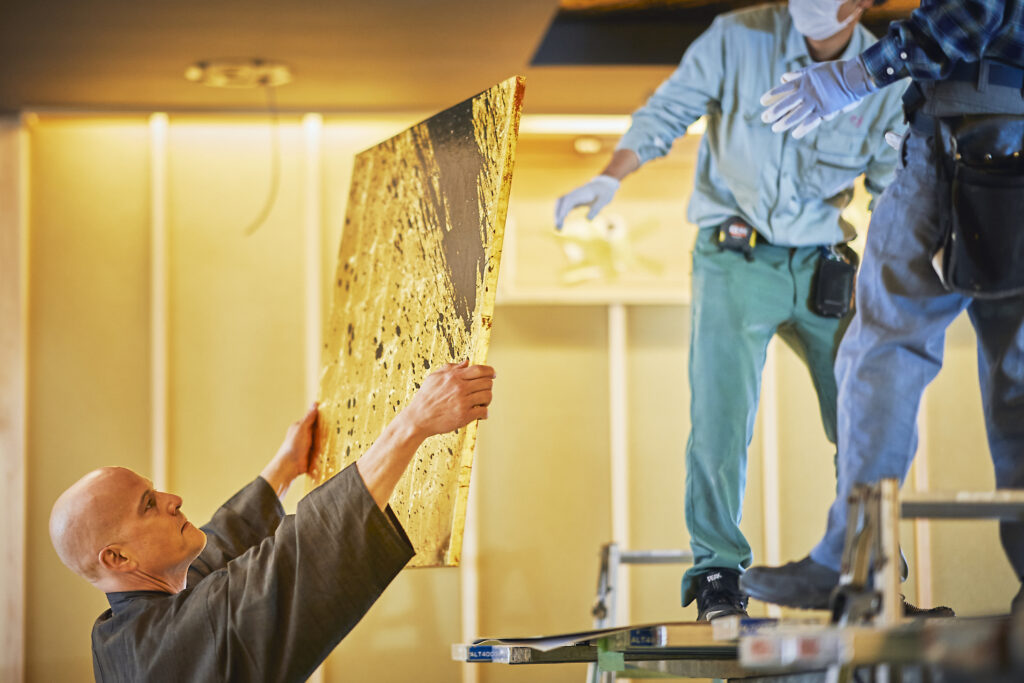 What gave you the most joy when creating this painting?
The scale. For years I've been painting larger and larger paintings. It's funny, in your career, if you start telling people the future, it's already happening, and they just accept it. It becomes a self-fulfilling prophecy if you talk about it enough. 
What was the hardest part of creating this painting?
Probably the timeline because the final "let's do it" came just three months before they wanted to install. We didn't have any panels made or gold ordered, so it was a bit of a rush in the beginning. Fortunately, if you do anything for 30 years, you create a network. Over 30 years I've built a great team of people and one of those team members is a great carpenter. I asked him and he was excited about the project, too. He made 24 of these really beautiful panels in about three weeks. It was amazing.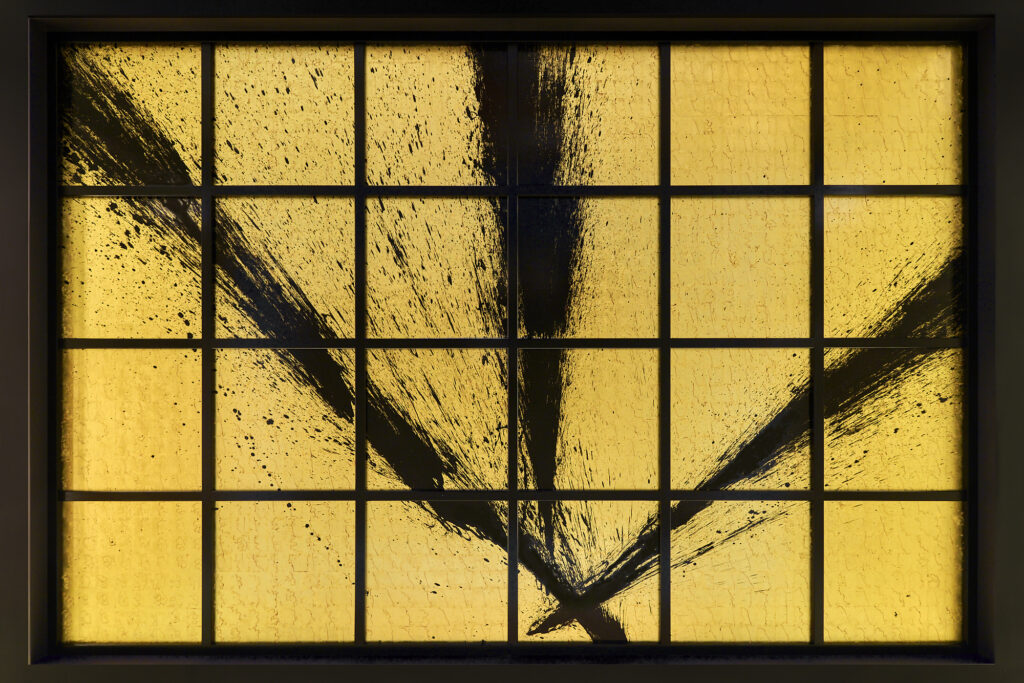 What's the next big project on your radar that you're excited about? 
I just installed a painting at the US Embassy in Tokyo. It will be hung next week or the week after in the main lobby where everyone comes in.
And then Riedel, the wine glass maker, is doing nine new products with me –  two sake glasses, a decanter and wine glasses. They have stores all across the country, so we're going to do these week-long events where they'll have only my glasses in the store and my paintings as well. So, we'll do an art show and wine tasting at the same time.
Onkyo is another company I'm working with that makes ear phones. They measure the inside of your ear and create custom inset earphones. I'm designing a set of those that will probably be out in September.
A lot of different projects! 
David Stanley Hewett's Story 
David Stanley Hewett is one of the pre-eminent foreign artists working in Japan today. After studying karate, ceramics and, later, Japanese history at the University of Massachusetts and Hokkaido University, Hewett made a permanent move to Japan in 1988.
Since settling in Japan, he has become an important artistic figure around the country. His work has been inducted into the National Archives Collection of the United States of America, been acquired as part of the US Embassy's art collection in Tokyo and can be found in numerous public and private collections around the world. Hewett has collaborated with major brands such as Riedel and Onkyo and has been honored with various prizes and awards throughout his career.
He is passionate about promoting Japanese art and culture and sharing the country's excellent craftsmanship with the world.
List of Previous Art Exhibitions
Some recent group and solo exhibitions include:
Daiwa Gallery, Korinbou, Kanazawa, February 2020

ASJ Tokyo Cell Gallery, Marunouchi, Tokyo, November 2019

Daimaru Gallery, Fukuoka, October 2019

Takashimaya Gallery Nihonbashi, Tokyo, September 2019

Takashimaya Gallery Osaka, Osaka, August 2019

White Space Chelsea Gallery, New York, May 2019

Palais de Seoul Gallery, Seoul, May 2018

Daimaru Gallery, Tokyo, April 2018

Tokyo American Club, Tokyo, April 2018

Daimaru Gallery, Kobe, March 2018

Mitsukoshi Gallery, Sapporo, February 2018

Affordable Art Fair Singapore, Singapore, November 2016 & April 2017

Fabrik Gallery Hong Kong, Hong Kong, September 2017

Ginza Six Artglorieux Gallery, Tokyo, June 2017

Tokyo International Art Fair, Tokyo, May 2017

Tokyo International Art Fair, May 2017

Mitsukoshi Gallery Niigata, Niigata, April 2017

Mitsukoshi Gallery Sapporo, Sapporo, March 2017

Maruei Gallery, Nagoya, February 2017 
Acquire David Stanley Hewett's Artwork
From hospitality to corporate and residential concepts, special projects and more, the Hewett team has decades of experience working with buyers, curators and other professionals to manage the commissioning process. Learn more about commissioning a unique piece of art from David Stanley Hewett's studio here.
The Hewett Gallery & Studio in Karuizawa, Japan welcomes visitors year-round on an appointment basis. To arrange a visit, click here.